October 7th, 2009, 8:58PM by nat | 12 comments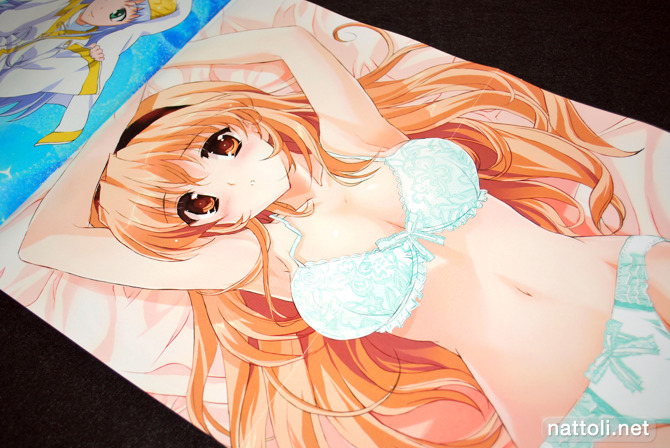 Ever wanted one of those huge anime girl pillow covers, but didn't want to pay that much for it? Or better yet, ever wanted a dakimakura, but didn't want to admit to wanting it and so hope to someday unintentionally acquire one? Well, make sure you buy this month's Dengeki G's Festival Anime magazine.
If ever there was a magazine you should buy for the extras, it's the Dengeki G's Festival series. Previous volumes have come with things like buttons, and oppai mousepad, and towels. But this time, it comes with a 155 x 50cm Nogizaka Haruka dakimakura. It's huge, shiny and silky soft! Though I don't own any other dakimakura to compare it to, I think it's really well done for a magazine give away.
Then again, it's not exactly a give away. This volume of Dengeki G's Festival Anime retails for ¥2,600, the price of most art books. And as far as most anime magazines go, it's not really extensive in content. This volume focuses primarily on the new and upcoming fall 2009 anime like To Aru Kagaku no Railgun, Nogizaka Haruka no Himitsu: Purezza, Asura Cryin' 2, and Spice and Wolf II.
Since the series mentioned all happen to be sequels and are also the meat of this issue. Each of the articles starts out by introducing the reader to the new season, and then reviewing what happened in the old one with screen shots and bits of summary. The magazine totals 82 pages length, which is shorter than every other anime magazine I could name, and dedicates 14 of those pages to Kagaku no Railgun, 14 to Nogizaka Haurka, 8 pages to Asura Cryin' and 18 pages to Spice and Wolf. With those numbers, it doesn't leave much room for anything else. On the up side, it doesn't have the black and white info section that most magazines have.
Of course, there is one other reason to buy this issue: the posters! Dengeki G's puts out very fan-service oriented posters, much like Megami Magazine and Nyantype. The downside is there are only 8 fold-out posters in total and most of them are from the series mentioned above (though they also included on from Shakugan no Shana S and one from Queen's Blade). This issue seems to be sequel obsessed!
The magazine ends with interviews with voice actors and actresses, mostly from the shows the magazine concentrates on this issue. Though the posters are nice, the content doesn't give me the kind of variety I expect from an anime magazine. The dakimakura is definitely the main reason to buy this issue. Unless you just really love posters ;D
Have you ever bought a magazine just for the extras?

Comments