November 19th, 2011, 3:24PM by nat | 0 comments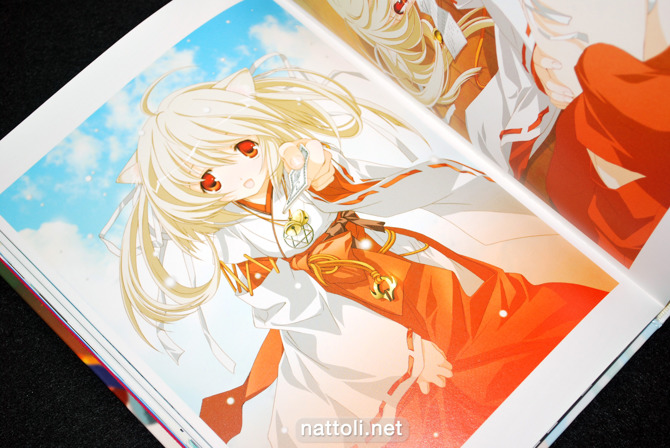 Miki Miyashita's Raisonne IV was a hard cover sequel to Raisonne III with new illustrations and a larger B5-sized format. Raisonne IV already really showcases how Miki Miyashita's style has grown, with better coloring and more proportional character designs. There's a mix of fan art and original works in the art book as well, ranging from Vocaloid to Code Geass.
Raisonne IV is an impressive 128-pages and all color. Physically, it's more what you would expect from an art book than a doujinshi, with a very professional hard cover finishing. There are no page numbers or sections, it's really just page after page of illustrations. Most of the works are full to page, but there are also some that have borders on all sides.
The two page spread illustrations in the collection do suffer a bit, as there isn't any overlap and the binding is quite tight, making for images that are cut off in the center. On the bright side though, the majority of illustrations do get their own page.
There are eight pages of Code Geass fan art illustrations that are really well done, but many also include some degree of nudity. Tengen Toppa Gurren Lagann gets two pages, with Yoko and Nia. Also featured are characters from Magical Girl Lyrical Nanoha, Gundam 00, and Mahou Sensei Negima.
Hatsune Miku and Kagamine Rin from the Vocaloid franchise are featured on about 12 pages through out the art book, though the majority of the illustrations are at the end. All in all, Raisonne IV is a really nice art book, and a big improvement from Raisonne III. Though it was only released for Comiket 76 (and Miki Miyashita hasn't had an art book since), you can still find it pretty consistently on sites that sell used art books!
---
Title: Raisonne IV
タイトル: Raisonne IV
Pages: 128
Release date: 08/15/2009
Buy: eBay

Comments