July 21st, 2011, 7:35PM by nat | 1 comment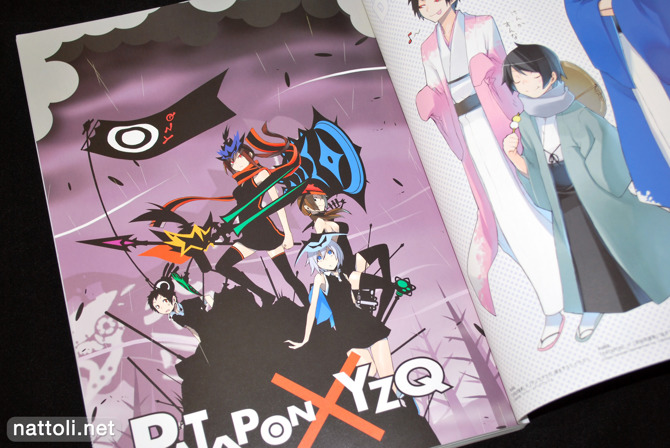 At the end of June, Yasuda Suzuhito released his first ever art books, Shooting Star Carnaval and Shooting Star Bebop. Though sold separately, the books are a best as a pair, serving as an impressive collection of virtually everything Yasuda Suzuhito has published. However, since each of these books are quite loaded in terms of content, it's easier for me to just review them separately ^^;
Shooting Star Carnaval is an A4-sized art book and 128-pages long. The book starts out with three newly drawn works, one of which is a spread for the cover art from Shooting Star Bebop. There's also a really cute (and original) Patapon X Yozakura Quartet piece.
The main series focused on in this volume are Yozakura Quartet and Kamisama Kazoku, with Yozakura Quartet occupying the most substantial portion of the book. The Yozakura Quartet section runs from pages 8 through 60, and starts out with the anime DVD cover illustrations, all printed full-to-page. Illustrations from merchandise like calendars, manga covers, and CD covers are also included.
There are also a couple of collaboration illustrations with Houden Eizo. Though they're not from Yozakura Quartet, they're still in that section.
Kamisama Kazoku is the next section, and runs from pages 61 through 80. There are a lot more tiled illustrations in this section, with the DVD cover illustrations featured that way along with CD art works. There are a few full page illustrations, but they're in the minority.
The Others section is next, going from pages 81 through 115. The illustrations from this section come from a lot of different sources, with Hatsune Miku Vocaloid art work, characters from Code Geass, Love Plus, and many more original works. There are also a couple of pages of Shin Megami Tensei: Devil Survivor art works.
The last 10-pages of the art book are small, tiled monochrome illustrations from Yasuda Suzuhito's various light novels. They're presented quite small, so they're not really a main focus of this collection. The last couple of pages are Yasuda Suzuhito's comments on selected illustrations, mostly the ones that were featured full-to-page. Shooting Star Carnaval is a really well done art book, and if you're a fan of Yasuda Suzuhito's art work, it's definitely worth it.
---
Title: Yasuda Suzuhito Illustrations Shooting Star Carnaval
タイトル: ヤスダスズヒト画集 シューティングスター・カルナバル Side:夜桜四重奏
Pages: 128
Release date: 06/29/2011
Buy: Amazon Japan

Comments