August 2nd, 2011, 7:19PM by nat | 5 comments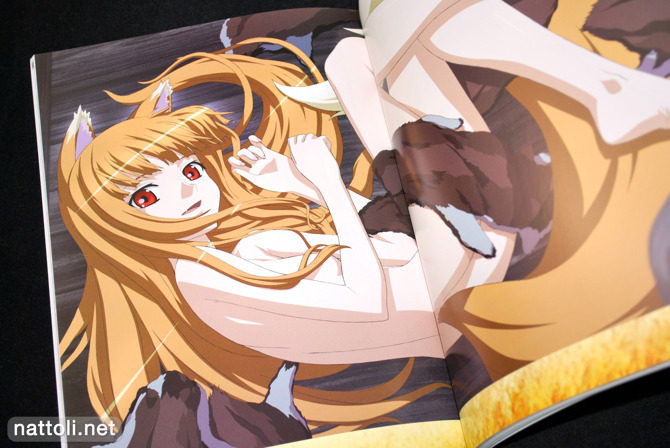 Up until a few days ago, Spice and Wolf Complete was the only real art book out for the popular series. And while it delivers the bare essentials---illustrations from the anime, manga, and light novels along with story information---it's not so much an art book as a guide book. Still, since I like to be comprehensive when I can, I'll include it ^^
Spice and Wolf Complete is B5-sized and 176-pages. The majority of the book is in color, with the last 15 pages in black and white. The cover illustration was newly drawn by Ayakura Juu for the book, though that's the only new illustration in the collection. After brief character introductions, the first section of the book is a story digest, including summaries of each of the light novels over 4-pages with a mix of (small) illustrations and key points. The first nine volumes are covered in this way on about 36 pages.
The next section of the book is called World and talks about the towns that Horo and Lawrence visit. There's a map and some background art included, but the images sizes are small and hardly more than thumbnails. This section runs from pages 48 through 68, and ends with a a process for the honey and fruit mix Horo enjoys in the show.
Mediamix is the next section, running from pages 69 through 126 with a focus on the art work from the anime, the video game, and the Koume Keito illustrated manga version of Spice and Wolf. The first part includes the anime character designs by Kazuya Kuroda (from the first season) followed by screen shot episode summaries of all 13 episodes.
The anime illustration gallery is the largest of the galleries, with about 17-pages. It includes several spreads of art works that were featured in magazines like Newtype and Animage as well as posters from Megami and the now defunct Comptiq H's Magazine.
The next gallery accompanies the information section for the Spice and Wolf DS video game, which includes a few pages of screen shots, Horo's character design for the game, and publicity illustrations. Unfortunately, the promotional works are all fit to the same page, so they're little more than thumbnails. The Comic section is next featuring the manga version by Koume Keito, which is only 8-pages long. There are also 4-pages summarizing the goods merchandising for the series that includes figures, keychains, towels, bags, T-shirts, and the like.
The final section is titled Special and includes Ayakura Juu's concept illustrations for Spice and Wolf. Most of the character sketches are monochrome, but there are a few in color. We also get to see small versions of Ayakura's rough sketches for some of the light novel illustrations. There's a two page interview with the artist, followed by guest messages from Koume Keito and Takeo Takahashi. Isuna Haskura is also interviewed over 8-pages. The book ends with a 12-page newly written story for the light novel version of Spice and Wolf. All in all, it's not the go-to book for illustrations, but Spice and Wolf Complete would definitely make for an informative addition to a fan's collection ^^
---
Title: Spice and Wolf Complete
タイトル: 狼と香辛料ノ全テ
Pages: 176
Release date: 12/10/2008
Buy: Amazon Japan, eBay

Comments