August 3rd, 2011, 7:38PM by nat | 12 comments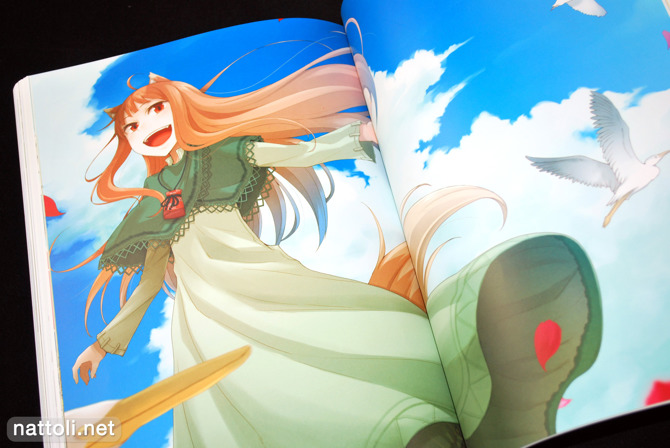 Ayakura Juu Illustrations Spice and Wolf marks the first art book by the artist, and the most comprehensive collection of Spice and Wolf art work to date. The slip on book obi boasts an incredible 400 illustrations, and while technically true, that's counting a lot of back cover pictures of apples and coins along with small monochrome thumbnails into that total. In fact, if you also purchased Rainbow Spectrum: Colors Haimura Kiyotaka Illustrations you'll experience a slight sense of déjà vu as the two books utilise a rather similar layout to bring together the monochrome and color works from the light novels and other media. But Spice and Wolf does it better on the whole.
Ayakura Juu Illustrations Spice and Wolf is an A4-sized art book and 204-pages in length. The cover is newly drawn, as is the first illustration inside, with Lawrence embracing Horo. There are several two-page spreads, but none of the illustrations are printed with overlap.
The presentation for the illustrations varies a lot inside; for the most part, the smallest displays are reserved for the monochrome illustrations that come from the interior of the Spice and Wolf light novels. The small sized color illustrations tend to be the back cover illustrations that feature a miniaturized Horo, or non-character images like apples, coins, books, purses and the like.
Even though the last volume of Spice and Wolf also came out in July, the cover illustration from volume 17 is still included in the book, along with other illustrations from the epilogue, including some spoiler-ish ones I won't mention. Another of the book exclusive illustrations features pretty much the entire cast of Spice and Wolf bathing in the hot springs. It appears after the two-page interview with Ayakura Juu in the center of the book, and really feels like it wraps things up!
More of the illustrations that accompanied the television show merchandise appear in the latter half of the book, including the small illustrations from the anime ending sequences. The Blu-Ray cover illustrations are especially nice, but the DVD ones are included as well. The Spice and Wolf covers for past issues of Dengeki Bunko Magazine were also included, which are quite hard to come by at this point.
There are about 10 pages of illustrations from the Nintendo DS Spice and Wolf game, and they're all gathered together. There isn't really a consistent order to the illustrations, so you may have to skip around quite a bit to find what you're looking for. There are also some modern-day Horo illustrations, with her in a school uniform and other present day clothing that were featured in Dengeki Bunko Magazine.
There are two guest illustrations at the end, one by Koume Keito and the other by Yasu. I thought the Yasu connection was neat, because Ayakura Juu was one of the guest artists for his art book, Yasu Illustrations. There's a 4-page illustrator's comments index, which includes Ayakura Juu's insights on selected works. Even though it had its fair share of small sized illustrations, Ayakura Juu Illustrations Spice and Wolf really is an excellent collection, concentrating the majority of full-page and two-page spread illustrations on Horo, which I'd guess is what most of us were hoping for ^^
---
Title: Ayakura Juu Illustrations Spice and Wolf
タイトル: 狼と香辛料―文倉十画集
Pages: 204
Release date: 07/30/2011
Buy: Amazon Japan, eBay

Comments