November 1st, 2009, 8:54PM by nat | 11 comments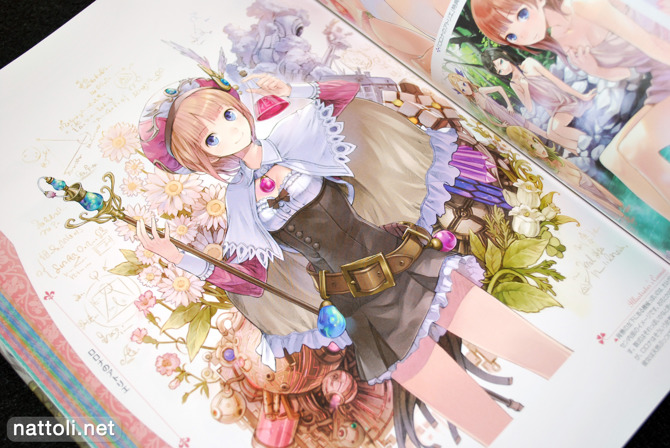 Atelier Series Official Chronicle collects loads of art work from the different Atelier Series along with Mana Khemia 1 & 2 and puts them all in one place for your viewing pleasure. The book goes in order from oldest to newest Atelier Series, with Mana Khemia in the mix.
The book is 272 pages long, and A4 in size, huge by art book standards. It's paper back and has a slip cover that when removed, shows a variation of the cover art work featuring Atelier Rorona's Rororina and Hom.
The first section features Atelier Marie, the oldest of the bunch. Each section consists of a few pages of art work promotional art work, then art work from the game scenes and finally profile pages of the the characters. Atelier Marie is illustrated by Kohime Ohse.
Atelier Elie has a very similar look to Atelier Marie, but I suppose that's the point. There are 22 pages in this section, with 5 character profile pages. In this section like the first, the non-main characters have half page profiles.
Little by little the art work evolves :D Atelier Lilie is next, which came out on the Playstation 2 in 2001. As with Atelier Elie, the artist is still Isaemon Yamagata. This section is also 22 pages long.
The next part is Atelier Judie, illustrated by Jun Futaba, which diverges significantly from the previous styles. There are a lot of tiled images for this 20 page section, although the art work is nicer than the previous ones, with more CG, soft shaded characters. I've seen it written Atelier Judith as well, but in this book it looks like they've gone with Judie.
Next up is Atelier Viorate (which is way better than Violate...) who is also illustrated by Jun Futaba, the creator for Atelier Judie. Atelier Viorate came out in 2003 and was also on the PS2. The first illustration in the section is actually an original one, drawn exclusively for this book. This section is also 20 pages long, and seems to have more game scenes than the other sections, but they're also better presented with a larger image on every page next to a couple of smaller ones.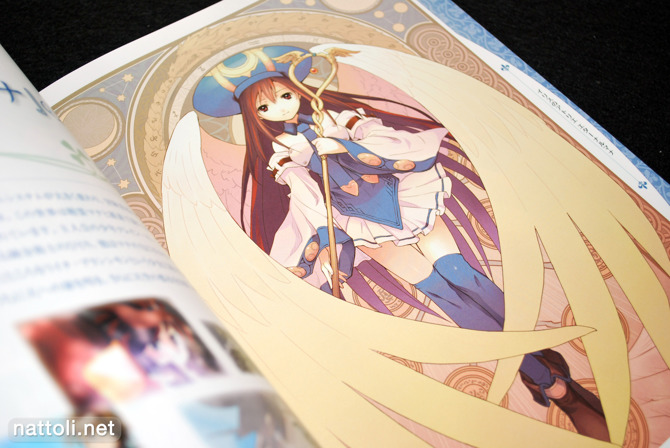 Atelier Iris is next, speficially the Eternal Mana game that came out in 2003. The new illustration by Jun Futaba in this section is of Ryta with angelic wings.
This section is also where we finally start seeing some full body images for the non-main characters on their profile pages along with pictures of the magic spirits. In this 20 page section, 7 of the illustrations are full page promotional images, and there aren't any "in-game" scenes shown.
The second Atelier Iris game, Eternal Mana 2 is next. There isn't an original illustration for this section, but it does include more promotional art work. None of the art work from in game scenes were include in this section either, but I think it's because Jun Futaba didn't illustrate those scenes in this or the last game.
The final Alterier Iris game featured is Grand Fantasm which is covered in 16 pages. Included are some of the illustrations from promotional items like tele-cards.
Both Mana Khemia games are also included in the book, and both are illustrated by Kazuyuki Yoshizumi. I really love the art work for these two, makes me want to play the game :3 Mana Khemia is a sort of spiritual successor to the Atelier Iris series, though not directly an Atelier series game. There are also phone card illustrations in the first game section.
Mana Khemia is covered in 18 pages and Mana Khemia 2 is covered in 24 pages. The second game has a lot more pages dedicated to the character profile pages, which the first game section has a lot more promotional art work featured. And it's a good thing too, the character designs in both games are gorgeous.
The final game featured is the newest, Atelier Rorona. It's slated to come out next year in English and came out this past June in Japan. The character designs this time are by Kishida Mel, whose art work has been appearing with increasing frequency in magazines and compilation books. He's also done a book exclusive illustration, featuring Rororina and Cuderia, as well as the new cover art for Atelier Series Official Chronicle.
There are five pages of promo art, and 14 pages of illustrations from in the game. The in-game illustrations are especially nice too, with this artist. There are also 12 pages of character profiles, all with full body images. This is the longest section in the book, with a total of 33 pages.
The book ends with interviews, a few pages on the changes of the re-appearing characters (like Pamela Ibis) from game to game and some release information about the game. Though not every artist is interviewed, some of the game creators are, and Kishida Mel gets a 6-page interview on his own. He's only 26 years old and quite established already.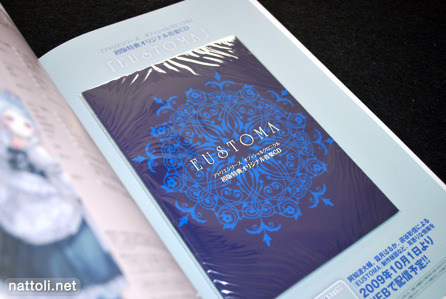 The final goody in this chronicle is a CD titled Eustoma. The CD is all music (I think there were 6 tracks) and you can listen to some of it on the Enterbrain official website. This giant sized book covers just about everything a fan could want, all in one place. Though it's ¥ 3,500, it really condenses the previous game guide books into what I was interested in: the art work ^^

Comments