November 28th, 2009, 8:06PM by nat | 9 comments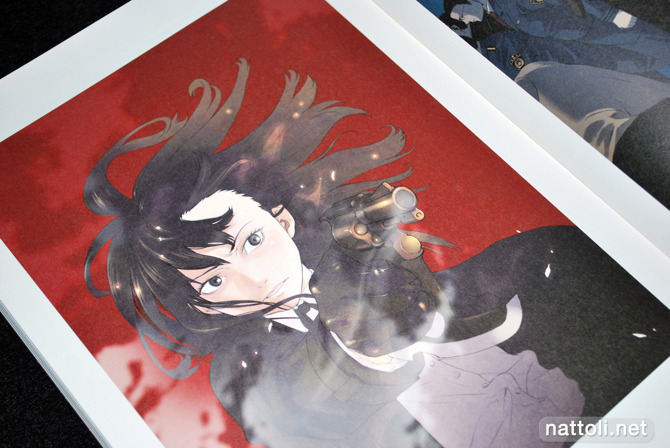 Kozaki Yusuke
's name has recently been all abuzz in the Vocaloid scene with his design for the
newest Vocaloid character, SF-A2 Miki
. But he's also the guy behind anime, manga and video game character designs from
Speed Grapher
,
No More Heroes
,
Bakumatsu Kikansetsu Irohanihoheto
, and
Karasuma Kyouko no Jikenbo
. And his collection,
KYMG Yusuke Kozaki Illustrations
makes sure to dip into all that and more.
Under the slip-cover of this book, there's a white-on-black sketch of the cover illustration, which looks really cool. It just has that "chalkboard" look that immediately makes any line art look more interesting :P
The first series covered in KYMG is Karasuma Kyouko no Jikenbo, a detective story set in future Tokyo, with the sixteen year old lead Kyouko as the special division case solver. The art work for the series focuses mostly on Kyouko, and the pictures are all dynamic and gorgeous. Though I haven't read the series, it looks like it should be amazing. But you know how that goes :P
There are about 32 illustrations on 30 pages in the Karasuma Kyouko no Jikenbo the majority of which are color, but there are three pages done in the comic-ink style that Kozaki Yusuke often uses. Most of the illustrations are displayed on a full page, with a couple images getting half-pages.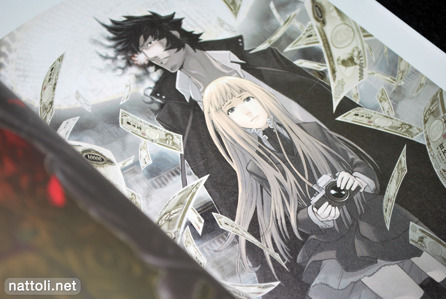 The next section is Speed Grapher, which displays many of the same illustrations that were in an earlier Kozaki Yusuke art book, Shutter Kill. Shutter Kill however, focuses only on Speed Grapher, so many of the images that are in this book in half and quarter pages, get full pages in the Shutter Kill art book.
If your only interest in KYMG is the Speed Grapher illustrations, I would definitely recommend getting Shutter Kill instead, as it has character sketches, larger illustrations and a better paper texture.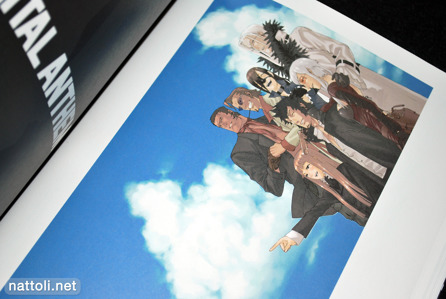 That's one thing I didn't like much about this book. A lot of Kozaki Yusuke's illustrations are dark, and use dark colors, but the paper used for the book is visibly textured which has a bit of a downside. On the one hand, this means that the print DPI can be higher and you can't make out the dots with your naked eye without really trying.
The bad side is that dark colors don't really standout and to your eyes, they appear to blend together. So black outlines or clothing details on a dark gray coat, or a gun become kind of invisible at certain angles. I think it's most noticeable in some of the Bakumatsu Kikansetsu Irohanihoheto because of the main character's dark clothing.
Love that Rei Ayanami illustration. I never get tired of seeing so many different artists drawn the characters of Evangelion. That one specifically was a Gainax Top Page image at one point. The cover illustration pictured above is original for KYMG.
The Bakumatsu Kikansetsu Irohanihoheto section has about 15 illustrations, and several are from the DVD covers. The book also has a few more non-series sections, titled things like "Attacks Mellows" and "[KYMG] Classics 1999" which are several of the art works that graced Kozaki Yusuke's website and other original illustrations. Oddly, some of the images printed in the "Classics" section have been up-scaled, which looks really bad when printed. But it's just a couple of black and white ones, and for the most part the illustrations are well done like the ones above.
The last illustration section is "No More Heroes" which contains about 24 illustrations of the characters from the video game. I've haven't played it yet, but the main complaint I keep reading is that it's too short. But I guess that also means it's good enough to want more of it, so that's a plus. The designs really have a lot of range and are really creative, even for the male designs.
You'd be surprised how many artists have pet pictures in their art books ^^; KYMG Yusuke Kozaki Illustrations is a top-notch 125 page art book. And as with most art books, it had a limited print run so it can be hard to find, but it does show up occasionally on Amazon Japan for a direct purchase ^^
---
Title: KYMG Yusuke Kozaki Illustrations
タイトル: KYMG—コザキユースケ画集
Release Date: 05/2008
Pages: 125
Buy: Amazon Japan, eBay

Comments