December 30th, 2009, 8:12PM by nat | 13 comments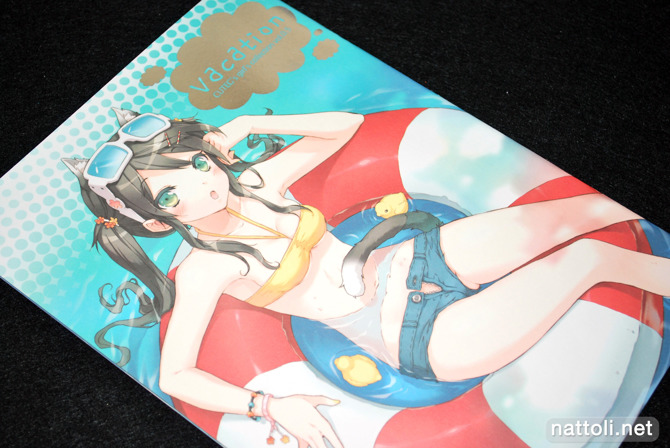 After reviewing so many art books and magazines recently, I'm in need of something short and sweet, and CUTEG's Comiket 76 doujinshi Vacation fits perfectly. At just 16 pages---a number that includes both the front and back covers---this full color illustration doujinshi is still a joy to look through. K-ON! is heavily featured, with appearances from CLANNAD, AIR, Touhou, The Melancholy of Haruhi Suzumiya and Toradora!
As you might be able to guess, CUTEG is a Korean artist, with a style that reminds me of a softer version of H2SO4, especially in the eyes. The doujinshi itself is staple-bound and printed on very thick card-stock pages. Above, CUTEG's rendition of the K-ON! girls in their seasonal uniforms.
All but one of the K-ON! illustrations are group portraits, but I love that she ventured outside the uniforms, to their band costumes and swimwear from the series. The pages are a bit textured, so these photos did turn out a bit lighter than the actual book, where the colors are quite deep and rich.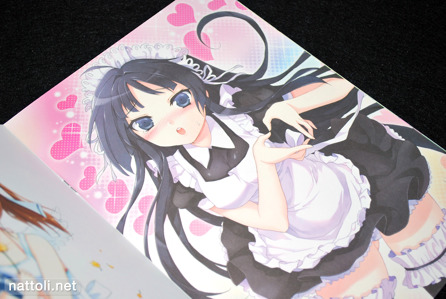 You can almost hear her say it...
Only two pictures from CLANNAD, but everyone gets hugs! Ushio and Nagisa on the left, and Fuuko and Kyou on the right. CUTEG has the next volume in her Girl's Collection series coming out at Comiket 77 and it looks like a winner. Seems like this time the girls will be original, though at least one is Vocaloid.
Toradora! girls Aisaka Taiga and Ami Kawashima. On the right, Misuzu Kamio from AIR. Love the gradient hair color in that one.
Even though I see a lot of Touhou, this one is really very pretty. And finally, worlds collide with The Melancholy of Haruhi Suzumiya, and Haruhi with Kyonko.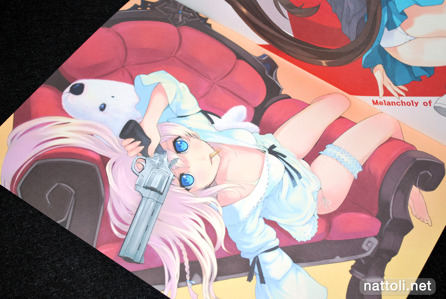 This last picture is a guest art by Piah, but it really blends right in with the rest of the work. Piah and CUTEG will be featured together in their
C77 release Meganeko
. I'm already quite enamored with CUTEG's style and really look forward to (hopefully) getting her new publications this Comiket. Anyone else have CUTEG on their 'get' list? :D
---
Title: Vacation
タイトル: Vacation
Release Date: Summer 2009
Pages: 16 (including covers)
Buy: eBay

Comments