January 8th, 2010, 8:19PM by nat | 5 comments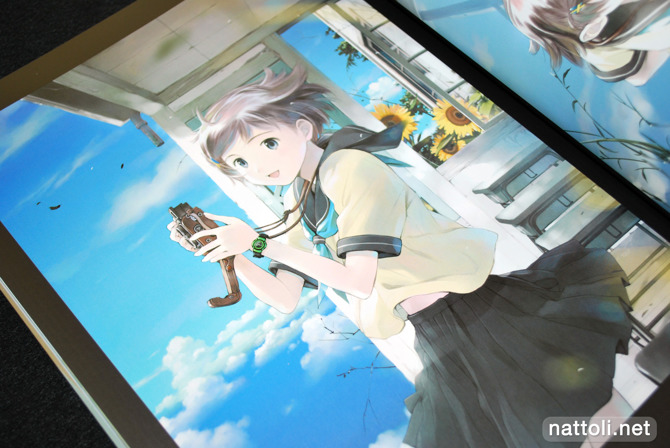 Yoshizuki Kumichi Picture Collection ~Calendar Film~ gathers more than one hundred illustrations by the artist in this A4 sized, 112-page art book. The art work is clean and polished, and beautifully presented with full page layouts, letting your eyes take in each piece, one at a time.
You may recognize some of the art work, or at least the style because Yoshizuki Kumichi is the illustrator for the Someday's Dreamers (魔法遣いに大切なこと) manga series, two of which were adapted into animations. However, the book is orgazined by season and not series, so you can encounter pictures from Someday's Dreamers as well as Yoshizuki Kumichi's original illustrations throughout the book. And it really blends quite seamlessly; I don't find myself considering the series when looking through this art book, instead I'm only appreciating the illustrations.
The first section of the art book is Summer, and it's by far the largest section of the book with about 43 illustrations in total. Most of the images in this section are also from the original Someday's Dreamers (魔法遣いに大切なこと). One of the most beautiful aspects of Yoshizuki Kumichi's are the backgrounds. He can really pull off an art book organized by seasons because the scenes are beautifully illustrated whether it's indoors or outdoors.
In fact, every illustration in the art book is a completed scene with a background, which isn't common for an art book of this length. Another rather impressive aspect of the book is that out of all the illustrations, only four of them are two page spreads, allowing for full page display for most of the illustrations.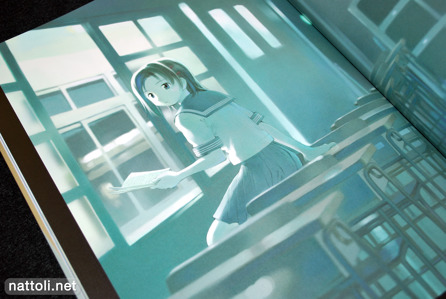 Just an example of one of the many moods Yoshizuki Kumichi can convey in his art work. This illustration also falls into the Summer section, with empty classrooms and summer uniforms.
The next season is Autumn, and it's quite short comparatively at just 13-pages and 15 illustrations. But the vivid colors of the fall are clear and many of the illustrations, with leaves brick and golden colored leaves creeping in amongst fall flowers.
Winter is next with 19 pages and 21 illustrations, so there's only one page of shared illustrations. I like this section best in particular because of the attention to detail in the clothing, and the subtle ways he manages to include color in to winter scenes that often tend to be quite bland. Five of the illustrations in the section are from the Someday's Dreamers (魔法遣いに大切なこと) series with the main character Yume.
The final season is Spring, with a total of 14 pages of illustrations. It's in this section that a couple colored manga pages slip into the bunch, but it only counts for 5 illustrations, and they don't take up full pages. I've never been a fan of an artist collection including colored manga pages, as they just don't have the same impact as full illustrations since they're usually cropped and cut off. There is a small monochrome section of 5 pages, and strangely, they're all illustrations of guys. I guess only girls are worthy of color! XD
Though Yoshizuki Kumichi Picture Collection ~Calendar Film~ was released in September 2008, the collection doesn't feel dated at all, with many of the illustrations still being used in current publications (like the recent 絵師100人 100 Masters of Bishojo Painting, all of those illustrations are in Calendar Film). I just feel that Yoshizuki Kumichi's art work really captures the imagination with his impossibly beautiful sceneries, dotted with equally beautiful character illustrations ^^
---
Title: Yoshizuki Kumichi Picture Collection ~Calendar Film~
タイトル: よしづきくみち画集 ~Calendar Film~
Pages: 112
Release date: 09/18/2008
Buy: Amazon.co.jp, eBay

Comments