February 8th, 2010, 10:38PM by nat | 12 comments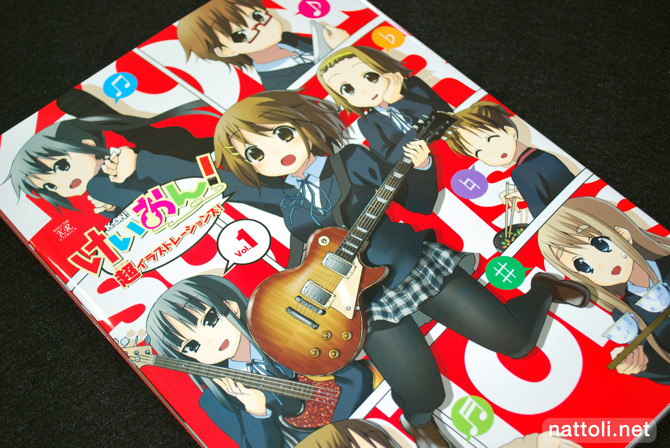 I was quite surprised by the contents in the new K-ON! Super Illustrations Vol. 1, as it features a combination of official art by the manga creator Kakifly (かきふらい) and tribute illustrations by a wide range of well-known (and relatively unknown) artists. It's an interesting mix, and it just makes me think they didn't have enough of either to put out a full art book. But seeing as how it's labeled as volume one, we can be expecting more of these in the future.
The book starts out with a newly illustrated 4-panel poster with Yui on one side in a bikini and Mio on the other, also wearing a bikini. If you're familiar with Kakifly's illustrations, you'll know they're not a lot like the Yukiko Horiguchi designs you see in the anime, but they have their own charm.
Kakifly's art work takes up the first 33 pages of this 120-page art book. On the down side it's really more like every other page, as the page layouts are one page illustration, one page line art for the most part. The illustrations are mostly cover arts for the manga volumes, and covers that appeared on Manga Time Kirara Magazine where K-ON! is published.
The rest of the art work in this collection is all essentially fan art. Much like with the Code Geass Heroine's Tribute that came out last year, each artist gets an information page with a sketch next to their finished K-ON! character illustration.
As I mentioned before, there really is a wide range of artists in this book, with several that I've never heard of, and others that I've seen plenty from. Above are some of the more popular artists in the book; from left to right Kanzaki Hiro, Sakana, Hinata Mutsuki, Takehito Harada and Takuya Fujima. As you can see, there's some heavy bias towards Mio and Asuza, but it's to be expected! XD
Of course, Mugi and Ritsu do get some love too. It's really amusing to see how different artists take on Mugi's very distinctive eyebrows. Above top row we have Nilitsu, Shin Hashimoto (who was in the most recent issue of Gelatin), and Yohichi Ariko. In the bottom row from left to right we have Kyo, Mirura Yano, and Siro.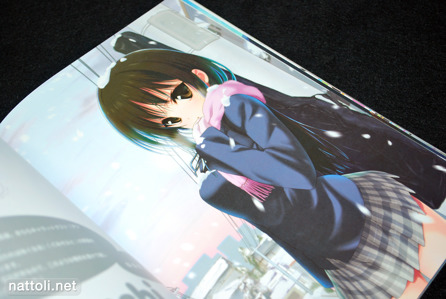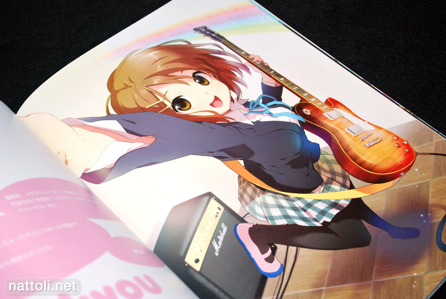 I found these two particularly cute: Mio illustrated by Meruchi Nanase and Yui illustrated by Zekkyou. I really like the way Meruchi Nanase does the hair and the lighting, and just makes Mio look really cute. Not an artist I've heard of before, but I'll look out for her future non-hentai art works ;)
In total, there are 40 different artists in the latter half of the book, each with one illustration. Some are a little on the weird side, like the picture of Yui above by kiR-Rin. But most stay true to the character designs and personalities of the K-ON! girls. There is an index in the book, but it only includes the official art works by Kakifly, as the rest were clearly labeled on their information pages.
There really is a lot of high quality art work by so many up and coming artists, so it's quite enjoyable to go through. Plus, it is K-ON!, which it seems people either loved or hated for the most part. I have no idea how they're going to get another (rumored) two books out of this art book series, but we'll see! For now, I'm happy with this one ^^
---
Title: K-ON! Super Illustrations Vol. 1
タイトル: けいおん!超イラストレーションズ! VOL.1
Release Date: 01/27/2010
Pages: 120
Buy: Amazon Japan

Comments