August 18th, 2011, 7:17PM by nat | 5 comments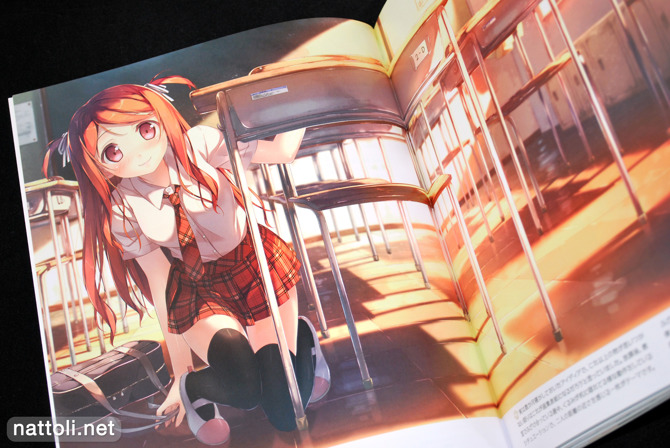 My initial reaction after browsing through Kantoku's second art book, titled STEP Kantoku Art Works, was that I should really stop purchasing his doujinshi. This isn't a testament to it being a bad art book, on the contrary, it's excellent. But it does mean that much of the contents from this book (as well as the last one) were initially published in his doujins.
There are two versions of STEP Kantoku Art Works, a limited and a standard edition. I purchased the limited edition, only because it was such a small amount more. The only extra (aside from a different cover) it came with was the B5-sized, 24-page monochrome sketch book Étude #2. I actually have Étude #1 as well, because it came with Etsu Magazine Vol. 31 as a teaser. Both booklets are staple-bound and are at the quality level of magazine extras.
The art book itself is B5-sized and 144-pages. There is no index or interview so you get all illustrations from cover to cover. As far as new illustrations go, aside from the two versions of the cover (both of which are re-printed inside) there's only one other book exclusive illustration. A lot of the content at the beginning was originally drawn for various issues of Etsu Magazine and exclusive Etsu goods, like these decorative (and expensive) umbrellas.
Even though Kantoku's Shinkyoku Soukai Polyphonica Illustrations will be out late next month, there are a few illustrations from the series included in this book. Also included are Kantoku's art works for the Hentai Ouji To Warawanai Neko (変態王子と笑わない猫) light novels, which are all given a full page display. And though it doesn't feel that long ago, illustrations from his doujinshi publication 5th Year Memorial are also present.
Interestingly, we get to see more of Kantoku's older art works towards the midsection of the book, after having started out with mostly newer works. Some of the art work in the middle goes as far back as Comiket 73 and should be familiar to most people who've followed his doujinshi.
Towards the end though, it moves back into more current works, including several illustrations done for various COMIC1☆ events. Even though Kantoku's art work is quite in demand, and just everywhere nowadays, I don't think it's lost its charm at all. If anything, it's even more vivid and beautiful than it used to be. STEP Kantoku Art Works is definitely worth it as art books go, though if you're like me, you might start thinking twice about his doujinshi releases ^^;
---
Title: STEP Kantoku Art Works
タイトル: STEP-カントク アートワークス
Pages: 144
Release date: 08/10/2011
Buy: Amazon Japan

Comments