January 30th, 2010, 8:03PM by nat | 12 comments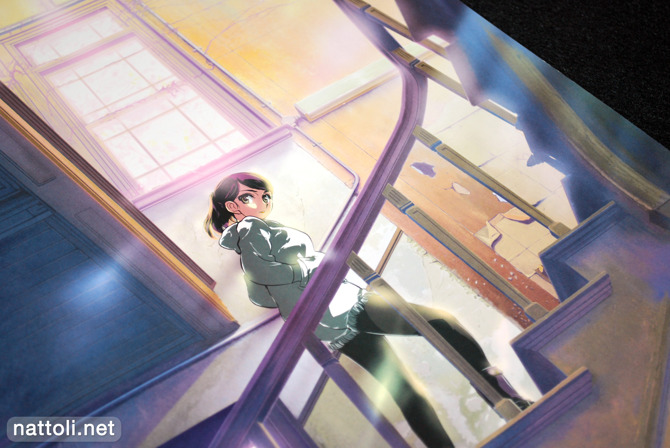 RubiconHearts is a newly established circle of artists who released their first doujinshi during winter Comiket 77 with the aptly titled 『Kyoto, Spring.』, headlining with original illustrations by artists Takeuchi Takashi (Type-Moon) and Kobayashi Jin (School Rumble). The mission statement of RubiconHearts is truly a noble one, wanting to show the beauty of printed art with a presentation that they feel digital art cannot yet capture.
Just as poignant as Takeuchi Takashi and Kobayashi Jin's beautiful character designs are the background art works that capture the beauty of Kyoto. 『Kyoto, Spring.』immerses you in the detailed beauty of each scene with A3 sized (11.7 × 16.5 inch) printed pages.
Depending which side you start from it's either exclusively Takeuchi Takashi or Kobayashi Jin's art work, but both artists works meet in the middle with a common illustration after finishing the exploration of the city.
The printing quality is stellar, with no visible printing dots or color grain. It's an important aspect of the publication as the circle RubiconHearts does feel that it's having to compete with the sharpness and clarity of digital images on an LCD screen.
Though Takeuchi Takashi and Kobayashi Jin are the focus artists for 『Kyoto, Spring.』it took an entire team to produce with doujinshi, with both color artists and background illustrators working on every single illustration. All artists involved are named and homepages are provided when available. Interestingly Kobayashi Jin did all his own coloring and finishing, but several artists finished Takeuchi Takashi's illustrations.
This giant-sized doujinshi is 36-pages in length, with a total of 24 illustrations set in a variety of settings, with backgrounds not only reflecting the location but also the time of day. This really is an amazing piece of work, and you can really see the effort that went into every aspect of the making.
With a first release like this, it's really exciting to think where RubiconHearts might go from here, and what other artists might decide to join in. As it stands, I wholeheartedly support this re-embracing of printed media. It would be even greater if other artists follow suit and emulate the production values in this publication. It really brings a circle back into effect, making it a team effort and really recognizing everyone involved, including background artists that are so often ignored.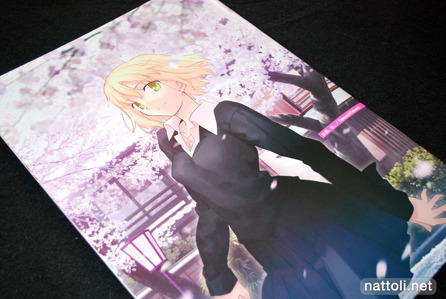 This is easily my favorite purchase from Comiket 77, mostly due to the presentation and attention to detail. Most other items met my expectations, but this one really exceeded them. This isn't to say I didn't like the other releases, but after looking at so many half-finished works amidst a few color illustrations, and zoom-layer duplicated illustrations to occupy space, it was amazing to see that one circle took such a professional approach to their Comiket publication.
---
Title: 『Kyoto, Spring.』
タイトル: 『京都、春。』
Release Date: 12/31/2009
Pages: 36 (including covers)
Buy: Yahoo Japan Auctions

Comments