September 26th, 2010, 7:56PM by nat | 9 comments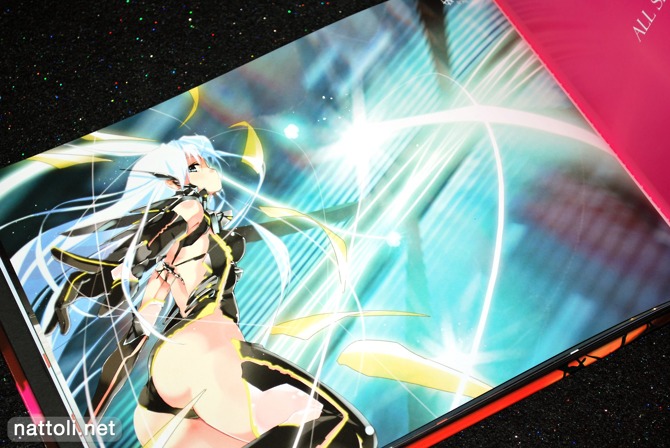 Even though Toranoana's ALL SEASON MIX BEST is really about the music, I had to get it for the accompanying art book full of all new original illustrations from artists like You Shiina, refeia, H2SO4, Tiv, Kuroboshi Kouhaku and many more. There are 39 illustrations in total from 27 artists, so in some cases you may get to see a new illustration from a favorite artist more than once ^^
ALL SEASON MIX BEST includes three CDs which are artfully fit into the front and back covers of this B5-sized, 48-page hardcover art book inside cut-away compartments. It opens horizontally in a landscape style, so all of the illustrations are done in the same manner. The index in the front lists both the song, with a symbolic indication of the season it represents, and the artist next to it. The cover art illustration is by Meola, and isn't repeated inside.
The majority of the illustrations (and songs) fall under the Winter category, with only three for Spring, four for Autumn, and eight for Summer. It's really noticeable when flipping through the book, as most artists chose to deck out their characters in full winter gear in snowy settings. Pictured above are illustrations by Dochibi (どちび), refeia, Kawaku, and Sime.
Quite a few of the artists included are well-known with commercial releases. You Shiina had two illustrations in the book, both for winter. Yoshizuki Kumichi also had two winter illustrations. Yunomi and BUNBUN, also pictured above, had two illustrations each as well. I was a little surprised to see illustrations by Yunomi included, as I was under the impression her illustrations were being withdrawn from several Comiket releases due to copyright infringement issues. But I guess the ones in here were okay...
Yamasaki Moheji's illustration is a beautiful change from the usual art style seen in these compilations. One thing that does stand out a lot about this collection is the variety of artists used, which includes several artists who aren't really known for their cute girl illustrations. The Toranoana information page for ALL SEASON MIX BEST includes a listing of all the artists in the book, along with audio samples of the songs.
Above are illustrations by H2SO4 and Tiv, who each had one illustration. Song lyrics are printed onto some of the illustrations, but there were also postcards of just the illustrations released at Comiket 78. All things considered, the print quality on a postcard can't compare to a book, so I think the book is still the better option. But I wouldn't be averse to getting the postcards if I could find them for sale!
More from Yoshizuki Kumichi above, along with Kuroboshi Kouhaku's contribution and Sime's other illustration. On a whole, the illustrations in ALL SEASON MIX BEST are excellent, with some real creativity to make them fit the themes and lyrics of the songs. It's kind of expensive, as the price includes the music as well as the illustrations, but if you're also into the music it should make it more worth your while!
---
Title: ALL SEASON MIX BEST
タイトル: ALL SEASON MIX BEST
Release Date: 08/13/2010
Pages: 48
Buy: Toranoana

Comments