December 27th, 2009, 8:20PM by nat | 4 comments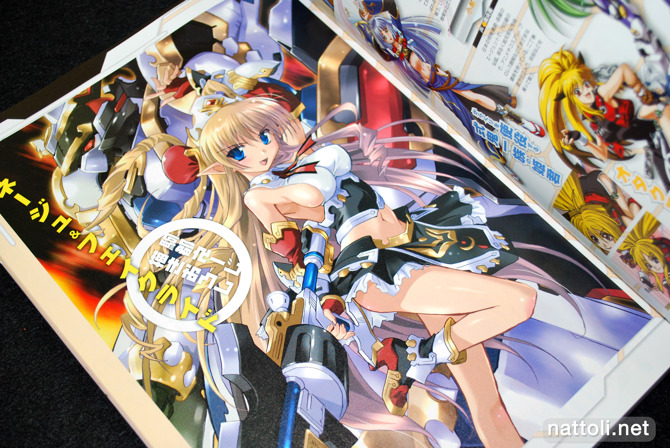 The newest issue of Megami Magazine Creators, volume 18, came out December 19th, 2009 and features a cover by Huke with new art from STEINS;GATE. It's still one of the smallest magazines I get, weighing in at 94 pages in total, but there's still plenty of art to keep me happy.
The only extra with this month's issue is the B2 sized, double sided poster with Huke's cover image on one side and an Eiji Komatsu mecha girl on the other. Both poster illustrations are also featured inside the magazine, but with text on them.
The main creator interviews are with Huke and Love Plus character designer Min Taro (ミノタロー). The interview with Huke is just a page, in question and answer format. It's followed by more interviews with other members of the game staff. Before the interview is more coverage on the STEINS;GATE video game with character profiles and the like. The Love Plus interview with Min Taro is several pages, with Love Plus illustrations interspersed including the rough drawings of the new ones in the Love Plus Character books.
The Girl's Style feature for this month features six artists, illustrating girls to the theme of onsen (温泉) or hot springs. The artists featured are Yunagi Syo, Tsuchinoto, Sekiya Asami, Seiryu, Minase and Tsukigami Luna. Some of the illustrations are a bit NSFW in that section.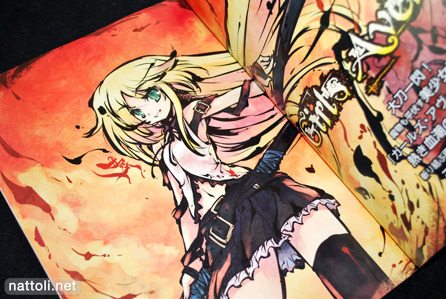 Before I forget, the Girl's Avenue opening illustration for the issue is by Tokiame, and it's not Touhou! Hoping to see more 'not Touhou' illustrations from his November released doujin, Memoir.
Our Girl's Avenue artists this month are Touko Hinamatsuri, Tenmaso, Double Dragon, Honjyou Raita, Misaki Kurehito, and Tomose Shunsaku. I felt a little let down with the selection, as most of them are artists that you see pretty often in publications. Above are Touko Hinamatsuri and Tenmaso, each of whom had a new full page illustrations for this issue.
Double Dragon and Honjyou Raita are next. Double Dragon's illustration is also new for the magazine. I guess I don't see his work that often, but when I do it's generally in compilation books like Girls Girls Girls and Magi-cu compilations. Honjyou Raita is a name you may not know, but you've probably seen his work with Valkyria Chronicles. Early next year, the giant-sized 400-page Valkyria Chronicles Development Artworks (戦場のヴァルキュリア Development Artworks) comes out, which is a must get for fans :D I got into late, but it's an amazing game.
Dengeki Moeh
. Both artists have also had a Girl's Avenue poster in Megami in the past year, and that's the full page illustration included with them.
The usual features continue and this month's featured animator is Horii Kumi, character designer for Seitoki no Ichizon, Akane-Iro ni Somaru Saka, and Ah! My Buddha among others.
Queen's Blade books still continue to be produced at almost break-neck speeds, with another character, Rumerume by F.S coming out next year along with one by the artist BLADE.
絵師100人 100 Masters of Bishojo Painting
is also featured with an interview and a few art works in this issue of
Megami Magazine Creators
.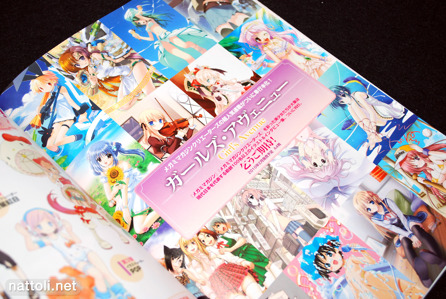 Though this was announced in last month's Megami Magazine, I was waiting for a more solid announcement, and this is it: the Girl's Avenue Art Book is coming out in February. It will include 100 artists that have been included in both Megami Creators and Megami Magazine Girl's Avenue posters and sections. So in case you haven't been able to buy every issue of Megami Magazine for the poster, you'll be able to see them all now.
With Kitty
art work, from the re-vamp of
Hello Kitty
. Some of the new artists include KEI, Shimeko, Eiji Komatsu, Poyoyon Rock, and others whose art will go on items being sold in the upcoming Comiket 77.
---
Buy: eBay

Comments